Jeremiah 10:3-4 is simply an excuse for Christians to celebrate Christmas. It's also an excuse to call Christians "pagans" that celebrate Christmas. One can't win either way. For many people, Christmas is a feeling that takes them back to their childhood. They gravitate towards the gingerbread, the gifts, the carols, and the Christmas tree. Talk about a sensory overload! It's a cherished custom that's hard to let go of.
Not to stray off-topic, but at first glance/read, many people take Jeremiah 10:3-4 out of context. It's better to read the chapter in its entirety, but I want to look at the first 4 verses. This chapter opens with a request for Israel to listen to what Jeremiah is saying, for he speaks the Word of God. The second chapter is a reminder that we live in the world, but we shouldn't even think of taking up such worldly ways. Verse 3 speaks of idol worship where trees are cut down to make idols for worship, and we're never to worship God through images or idols of any sort. Verse 4 describes how the idols are then decked in silver and gold. Yet, despite the care, time, and patience that goes into craving and decorating a lifeless deity, comes to life it does not.
Statue of Baal via Google Arts & Culture
We can clearly see that Jeremiah is condemning idolatry, not Christmas trees. He is reminding his people that the gods that the pagans worship are NOTHING compared to the True and Living God. Compare Jeremiah 10 with Isaiah 40:18-20; 44:14-17, and read how similar the arguments are. When will a Christmas tree become a graven image for these passages to apply? When people start bowing down to worship or pray to them.
However, I'll also have to concur that there is a slight resemblance between the Christmas tree and the tree of Jeremiah and Isaiah. The Christmas tree is supposed to be a decorative symbol, yet, there are songs directed to the tree as if they were meant to serenade it.
Although Jeremiah 10:3-4 may not be of the beloved Christmas trees, they began as a pagan tradition and there is no denying it, no matter how much one dresses or lights it up. Christmas loving Christians are going to want to defend and argue over other man made traditions that non-loving Christmas Christians keep, such as birthdays, but that's a topic for another day.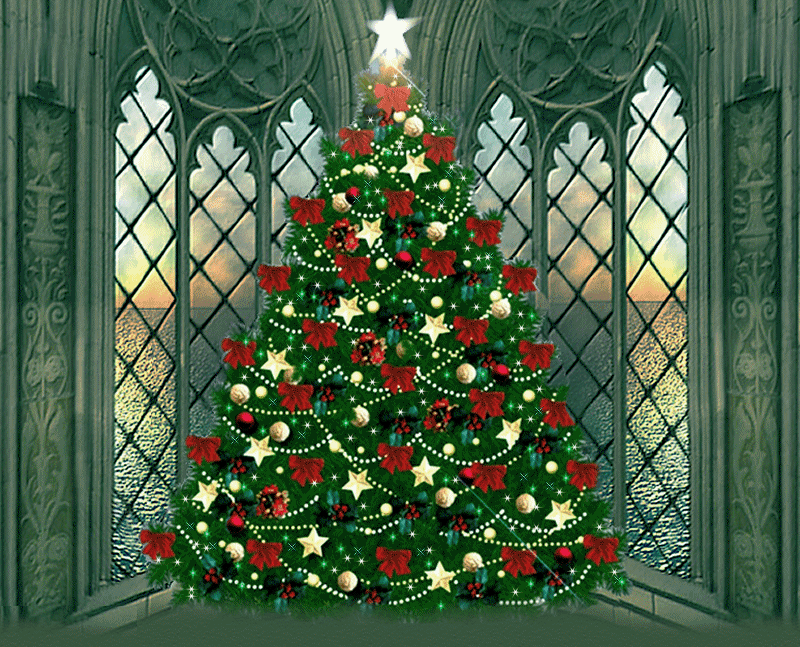 GIF via Best Wishes
Conclusion
The Israelites failed to heed God's warning time after time. They were fascinated by the religious practices of their neighbors, so it became easier overtime to ignore God, and slip into idolatrous worship, thus learning the way of the Gentile. The celestial body was part of the Gentile's worship, so that includes the sun, and December 25th do have significant history with sun worship. As the wisest man once said, "There is nothing new under the sun" (Ecclesiastes 1:9). Many customs and traditions are recycled and simply given a new name and purpose, and Christmas is one of such.
When we look at Jeremiah 10, we must remember that Christmas came into being long after the death and resurrection of our Savior, as a day to honor His birth. Some might argue that "we honor Him every day," but why December 25th to commemorate a birth that is inaccurate? Why December 25th to give gifts, spend time with loved ones, and share with the homeless? Shouldn't those things be done during the year, and not one day a year? What's so special about this one day that we stop to "celebrate" and "honor" Christ? Why not every day? It's no wonder why this festive season is fill with so much of anxiety!
GIF via Society19
Getting back on track, Jeremiah 10 is referring to idolatry as the practice of decorating Christmas trees originated later. However, although the passage is not referring to Christmas trees, take time to look into the celebration of Christmas and its trees. God warns that "the customs of the peoples are futile", so why are Christians bent on looking at pagan practices and seeking to copy them? Why do we seek to justify the keeping and practices of it? We need to stop borrowing attractive religious customs from the world around us, and worship God in spirit and truth as it is meant to be. Our religious practices should be taken DIRECTLY from the Bible.
Final Thoughts:
No matter what, we can't put Christ back into Christmas, for He was never there to begin with, no matter how it is dressed up. It's not even pronounced Christ-mas, but kri-smuhs. If it's all about Christ, why is the 't' silent?

It's AMAZING how many people disobey or trash Christ during the year, but come together to "celebrate His birth" for one day. Make it make sense.

It is easy to give praise with our voice, but what about action through obedience?
** If not all, the majority of LPMB graphics are created using Canva; images via Pixabay. GIFs/Images that don't belong to LPMB are via Google Search (Right-click on the image for the source of origin if not credited.)
VERSE OF THE MONTH (December 2021): 



My people are destroyed for lack of knowledge.

 



Hosea 4:6 🤔