Reading has always been

un passe-temps préféré

 of mine, but lately, not so much.
At the beginning of 2020, I had one goal in mind: to read through my TBR. What started out as fun became tedious, and I just wasn't up to the task by the time July rolled around, so it was only fair that I put reading on hold. The classics I wanted to read and get over were shoved aside, and the 20 books I chose to read by year-end were a disaster. To be honest, I had enough time to read and even do a read-a-thon marathon, but my heart wasn't in it. However, I still managed to read 115 books before quitting, so from these books, I'll choose my highs and lows.
5 Cups of Coffee
Unfortunately, I did not rate any books five steaming cups. However, these books came close to a warming up 5:
Dancing the Dream by Michael Jackson – MJ certainly had a way with words. Although I can't rate all of his poems 3, 4, or even 5 stars, I enjoyed the majority, especially the ones where he expressed his concerns for the earth, the treatment of animals, and love for his mother. This poetry collection is some of the best I've read. 
Moonwalk by Michael Jackson – In his words and thoughts. Sometimes they were jumbled, sometimes they didn't make sense, but what else did I expect from MJ. If it's one thing I came away with from both MJ book is the way he told stories. He would've been a terrific storyteller of books. 
The Making of Port-Of-Spain by Michael Anthony is perhaps the best book I've read from a local author. I thoroughly enjoyed learning about my capital from eras gone by. When compared to the present, POS appears to have taken too many a facelift and there are current plans to put her through another one at present. 
Books I enjoyed
I Hated, Hated, Hated This Movie by Roger Ebert. Actually, I liked, liked, liked this book. Ebert mixed no sugar in drinks to sugarcoat why he disliked the movies he thinks should be avoided at all cost. He reminds me of myself when it comes to talking about books.
Letters From Cuba by Ruth Behar – The story focuses on a young Jewish girl who leaves Poland to help her father make a new life for their family in Cuba. The format of this book was in letter writing, and it bought back fond memories of letter writing between my friends and me back then. The book is based on the author's life, and if I do find the time, I'll share my thoughts in another post.
All-American Murder: The Rise and Fall of Aaron Hernandez by James Patterson – JP has found his niche and that's writing real-life crime stories. Although detailed, this book was well written. Although I'm no fan of the NFL, I knew Aaron, and that's how big a deal he was. This man had a bright future ahead of him, yet, he threw it all away just to hang out with drug dealers and gang members until he eventually became a criminal himself. The Bible warns us about the company we keep (Proverbs 13:20) and had Aaron heed that warning, he would've been alive today.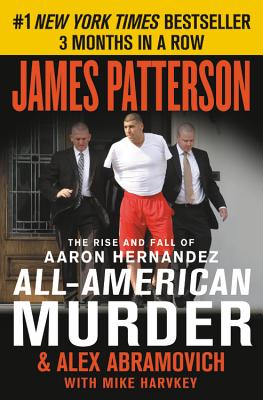 Books I didn't enjoy
Maybe Twinkle is funny on film – I can't recall any of her movies as I write this – but she's not funny in ink. In Mrs. Funnybones I found the humor to be stiff and forced – like most unfunny Bollywood films. The writing fell flat as it was amateur and unimpressive. I expected more from Mrs. Khanna given her so-call legendary funny status in India. Mrs. Funnybones is not very funny at all. 
Another book I extremely disliked was Woman of God by James Patterson and Maxine Paetro. The faith presented in this book was not a Biblically sound one, but rather, a mysticism one. The one I call 'God is not a genie' faith that was also presented in the "Christian" film War Room. This book was drawn out, boring, and HIGHLY offensive. The character wants us to believe that God whispers in her ears as Priscilla Shirer claims, and she even had a few choice words for God that can only be labeled as blasphemous. There was no character development and the writing was horrible. 
Chestnut Street by Maeve Binchy is perhaps one of the BIGGEST overrated books I've ever had the displeasure of reading. Too many characters, too many boring stories. There was one that reminded me of Tom (Cruise) and Katie (Holmes) due to the fact that the characters' names were just that: Tom and Kate. The author seems to hate men, for they were mostly cast in a distasteful light. Or maybe it's an Irish thing, for most Irish authors that I read love putting men down. Are Irish men that bad?
Favorite Classic
Ah, my least favorite genre. Classics are supposed to withstand the test of time, but most of them are nothing special. Yet, I'll try to polish off my classic TBR this year. I read a total of 21 classics last year, and if I had to choose a favorite, it'll be Around the World in Eighty Days by Jules Verne. Even though the story revolved around a so-call English gentleman, the French valet Jean Passepartout was the true hero. 
Least Favorite Classic
That's easy. Oscar Wilde's The Picture of Dorian Gray, Daphne du Maurier's My Cousin Rachel, Ernest Hemingway's The Old Man and the Sea, and Carlo Collodi's Pinocchio. I also disliked The Borrowers by Mary Norton. There is nothing right in stealing other people's property and labeling it as borrowing. Definitely not a positive message for children.  
I've come to the conclusion that most classics are just overhyped, boring books that don't age like a vintage bottle of Châteauneuf-du-Pape.
Top DNF
It's hard to DNF a book…
…but in some cases, there is no choice left. I read a few books from James Patterson, and while I liked his true-crime books, I couldn't say the same for The Chef. I love the concept of a cop who is also a food truck chef in New Orleans, but I couldn't stand the protagonist, for he was an egomaniac and a homewrecker. Also, we get more descriptions of the food rather than the investigation.
Another book I had to DNF was Stuff Christians Like by Jonathan Acuff. There was nothing funny to tee-hee about. There is nothing wrong with Christians being funny, but they must know their limit. Most authors – classic to modern – don't think twice about mocking Christ. There are Christians that may say they're not offended, but true Christians know not to mix matters when it comes to mocking our Lord and Savior. 
My reading goal for 2021 is very simple: read better books. Although I'm currently on my 8th book for the month, it remains to be seen what I'll actually call a good book, save the Bible.
** If not all, the majority of LPMB graphics are created using Canva; images via Pixabay. GIFs/Images that don't belong to LPMB are via Google Search (Right-click on the image for the source of origin if not credited.)
VERSE OF THE MONTH (January 2021):  

For if you remain silent at this time, 
relief and deliverance for the Jews will 
arise from another place, 
but you and your father's family will perish. 
And who knows but that you have come to 
your royal position for such a time as this?" 

Esther 4:14 👑